Brunch by the Bay in Tāmaki Makaurau, Auckland on the 15th November 2023 was another hugely successful Creative Launchpad event, leaving graphic designers running their own businesses feeling inspired and more confident. We had a morning filled with inspirational speakers, a tasty brunch, fresh coffee and real conversations about the successes and struggles of running a design business.
A massive thank you to our speaker and panelists
Laura Feaveryear from Creative Jam delivered an incredibly inspirational talk and presentation about her journey to be becoming a widely recognised packaging designer in the FMCG industry whilst dealing with a rare eye condition that impedes her vision.
Our three panelists, Ruth Lever, Harry Burt and Sarah Marshall took part in our question and answer session, offering their practical advice from a wide range of topics from design process and client management, to pricing and overcoming imposter syndrome.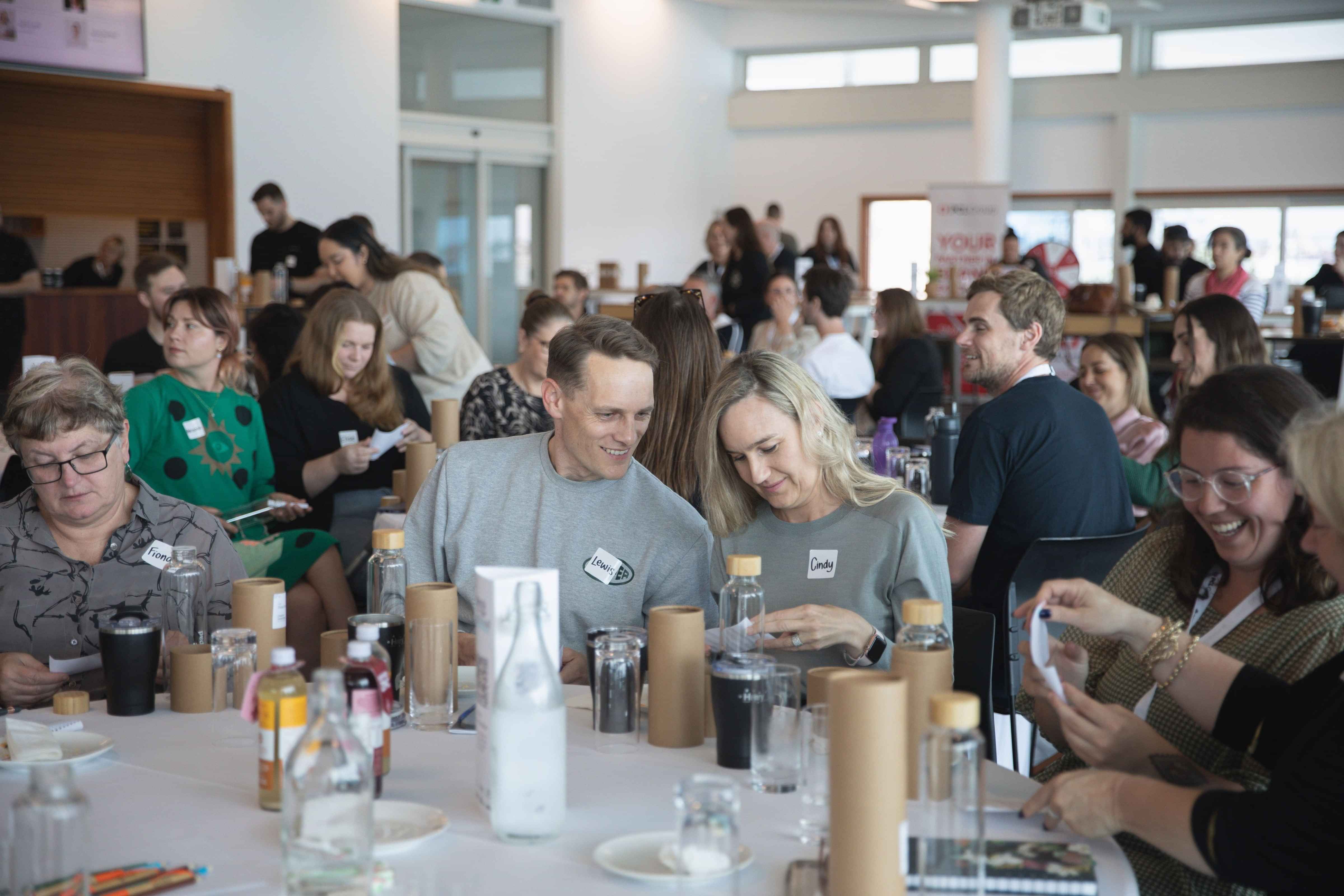 Community over competition
The atmosphere on the day was inspirational, friendly and collaborative. With a room full of designers who commonly work from home made the most of the community environment on the day, sharing their own experiences, tips and tricks about running a small design business.
A morning of learning, inspiration and connection
And of course, the brunch was delish! Great food paired with great coffee created an ideal space for mixing, mingling, and even a little business talk.
Crowd questions & panelist answers from the day
How to transition to freelance design from full time work
Can you name some of your biggest challenges as a freelancer, coming from previously working in a corporate environment?
Making time and space for all of the admin, downtime, and sick days that you'll need to take even as a freelancer! I thought when I first started that I'd have 40 billable hours per week 🤦‍♀️
How do you make the leap from your corporate 9-5 to being a full-time creative?
Slowly 🐌 I started freelancing in the evenings first, then once I had some projects lined up + 3 months savings, I quit my full-time job. But, you'll never fully feel ready, so just throw yourself in!
How much do you charge for your work and how do you structure your packages so that you're able to make a profit and not burn out?
This is a bit of trial and error, and also is so dependent on your preferences! A good place to start is actually by figuring out what you want your day-to-day to look like, then how much money you need and want to live your life (don't forget annual leave and expenses). Personally, I can only take on 3–4 projects at one time.
Did you have to chase clients for payments? How do you set it up so you don't have to?
Set expectations in your discovery call and proposal, don't release final work/transfer ownership until invoices are paid, and use Hnry and auto reminders.
Freelance career advice and client management
As a student who's about to enter the industry, what's been the biggest challenge of breaking into this field for you and what advice would you give?
Biggest learning - an imperfect, completed project is worth a lot more than a perfect project that you never finish. Don't worry about trends. Set up some good habits and routines around your workday. Give social media a try - but remember it is not the only indicator of your success. Never stop learning new things!
What is your best tip for gaining the best clients?
Create a profile of your dream client and say no to any project that doesn't fit that dream. You'll have to be more cut-throat than you will feel comfortable with.
To the travellers, any tips for making client connections while living the travelling life?
How did you figure out your niche/what industry you'd like to serve?
I haven't yet and don't particularly feel the need to. I am really clear on my values and dream client, and (usually 😂) work on aligned projects from a range of niches and industries. If you have one industry that you have a strong desire to work with though - dive in!
Managing challenges and imposter syndrome
What do you do when you lose a project/client you have been working with before to another designer? Like when a client has a new comms or marketing person?
Try not to take it personally, but do ask for feedback via a video call if you can. Projects should remain with you from start to finish, and make sure that you include this in your contract. Sometimes, shit just happens, so be kind to yourself ♥️
Burnout, it's a bastard and as a freelancer it's easy to push yourself too hard and sometimes over the edge, how do you say no even to an existing client?
I have started time blocking my calendar (including myself as a 'client') and have found this really helps visually to see how I could fit things into my month. Then practise saying 'no,' or 'let me take a look at my calendar and get back to you'.
Do any of you struggle with "imposter syndrome" and how do you move past those feelings?
Absolutely. I keep a 'win calendar' with cool things that have happened, including positive feedback from clients, and read through this when I need to. It's really just a confidence game, so be kind to yourself and be your own hype-person.
As someone relatively new to freelancing, have you found a niche industry to focus on or are you still working with different types of clients?
I don't have a niche in the traditional sense. I am definitely getting more specific about working with aligned clients that I share values with, rather than being from one particular industry. I highly recommend working through brand strategy for your own business, including competitor research and audience personas, to hone in on what you want your business to look like. If you have a natural niche - great! If not, honestly, don't lose any sleep over it.
Do you have any tips for working with a client who doesn't like what you've designed?
I take my clients on the journey, and get them to sign off on the strategy before beginning any design work. This usually works a treat! But if not, jump on a call and talk through the specifics to see how you can come to a solution. Give them your professional recommendation and reasoning, then the rest of it is up to them. The client is not always right, but they should always be happy with the end result.
Thanks to our event partners
We are proud to partner with Design Assembly, Gravitas Media, GSM Magazine and picky to bring you Brunch by the Bay, Auckland.

If you missed it, don't worry, there'll be more exciting events like this to come!
Subscribe to our email to get notified about new content, upcoming webinars & events.